Holistic Health is a combination of many modalities in order to be healthy! It only seemed fitting that we help help Save The Bees with a free packet of 14 different wildflower seeds. Watch the video below to learn how to get your free packet at Strategic Healing. *for a limited time
We have been keeping bees for many years. There's something wonderful about watching all of our honey bees buzzing about in our permaculture garden. We know that they are boosting our produce production but we also know that we are all part of a very fragile ecosystem.
This is one of our girls pollinating a borage flower. Pollen for her and Borage leaves and Borage flowers for our salads! Bees are an essential part of our permaculture garden.
Beekeeping is a family affair. Katy is a second generation beekeeper. Here she is with her Dad, Jerry. It's much easier to inspect the hives when you have a second set of hands. Those honey supers are heavy.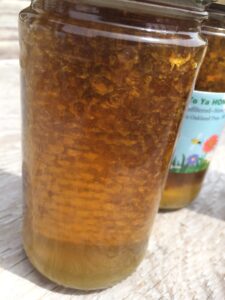 If you haven't tried our honey yet, you're in for a real treat. You can pick up a jar when you're in the office. Our honey is Raw, Local, and Unfiltered. We even have some jars available with honeycomb. We have so many clients that use our honey for seasonal allergy relief. We'll see you soon!