In Episode 60 of HealingMatters, Jason explains what is Hydrochloric Acid why your stomach needs acid in the form of Hydrochloric Acid (HCL). What health problems are caused by not having enough HCL in your system. Believe it or not, arthritis, food poisoning, and food allergies could be from an HCL deficiency. Who should take HCL? Can you extend your life with HCL? Should you drink alkaline water? Should you take Tums or antacids if your stomach hurts or you have acid reflux?
What is HCL?
Health problems caused buy inadequate amount of HCL.
Teenagers can add sea salt to help the body produce HCL.
Organs like Kidneys, Liver, Heart, and Brain are effected by HCL.
Do I recommend being Vegetarian or Vegan?
Who needs HCL?
Do older people need more protein or more HCL?
Are you too acidic? Do you need to drink alkaline water?
Is there anyone that doesn't need HCL?
Should you eat Tums or antacids to make your stomach feel better?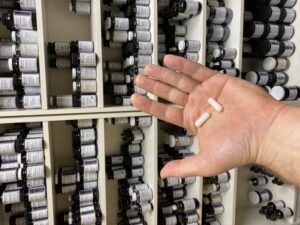 Did you learn something new? Help me make more shows by purchasing supplements mentioned in today's show.
* Podcast: HealingMatters
* Support your health by becoming a Patron for as little as $1/month. You can get even more in depth answers to your health questions answered directly by Jason. You'll also get sneak peaks on happenings at the Healing Homestead!
* Join me LIVE on Facebook at noon on Wednesday.