Lysine And The Benefits
Of The Antiviral Diet
In episode 95 of HealingMatters, Jason Eagle talks about viruses. What is a virus and how it replicates. The foods you eat directly effect your bodies ability to inhibit virus development or encourage it. The antiviral diet consists of foods high in Lysine and low in Arginine.
What Is A Virus
A virus is smaller than bacteria. It invades living cells. A virus can mutate or adapt depending upon the person or the host. When a virus mutates, this is called a variant. Viruses can be very hard for your immune system to find.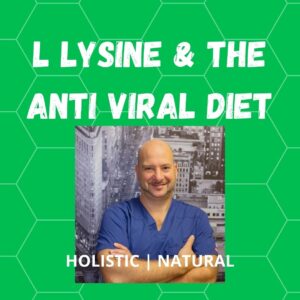 Lysine inhibits viral growth.
L Lysine: Antiviral Diet
L-Lysine or Lysine inhibits viral growth. Lysine is an amino acid that helps synthesize protein and create enzymes. It is essential which means your body can not make it but it must eat it. The foods you eat directly effect your bodies ability to inhibit virus development or encourage viral growth. Foods high in L-Lysine inhibit viral growth and boost your immune system. Think greens, citrus, and dairy.
Arginine
Foods high in Arginine promote viral growth and development. Think nuts, seeds, chocolate, alcohol, and sugar. Arginine is also essential amino acid. Arginine is not bad but it needs to be eaten in balance with Lysine. Today's Standard American Diet (SAD) is way to high in Arginine which decrease the body's natural immune system.
Exercise And Lysine
If you start a new exercise routine or add in new protein shakes and health foods after a workout you need to be aware of the amount of Arginine you are consuming. Exercise detoxes dormant viruses from the joints and stored fat cells. Increase your Lysine! Lysine supplements are to be taken on an empty stomach with water.
Premier Research Labs Supplements
You can buy all Premier Research Labs (PRL) supplements mentioned in today's show on my website. PRL supplements that may help build your immune system. Don't forget, Premier Research Labs is the Professional line of Quantum Nutrition Labs ONLY for certified practitioners.
How Jason Can Help
Jason can use Quantum Reflex Analysis (muscle testing) to ask the body what it is allergic to, what it is deficient in, where energy flows are depleted, and more. By using a holistic approach to health Jason can incorporate many modalities to restore the balance, energy flow, nutrition, and emotional health, Naturally! Jason can administer Mud Packs (I-Packs), Massage Therapy, and design your Nutritional Program.